Last night there was a very bad storm where I live. In fact, a small tornado had apparently touched down near where I live. Fortunately for myself (and unfortunately for my enemies) I'm still alive, and our home is relatively unharmed. However, the next morning, I went to check the mail - and suddenly, perhaps because of the caffeine I had drank that morning - I shouted. "FUS RO DAH!!!" I exclaimed in mighty fury, and down fell a tree that stood in my path!
Okay, actually the TRUTH is that I went to check the mail, and this is what I saw. My favorite tree - one that would bear beautiful pink flowers and delicious poisonous berries when in bloom that I couldn't eat - had faced the wrath of Thor's mighty lightening! (Pun intended)
Okay, okay - so it doesn't really look scorched or anything - and while some thunder I heard that night sounded disturbingly close - I don't think it hit my tree. The wind did this. But still...my poor tree!
I'm very sad to report that my personal fluttershy is dead. Or at least kind of dead. The root's still alive, but I'll probably be moving long before new trees grow to any measurable size. Anyway, I'm just glad it didn't fall on our vehicle or our home. It did damage our mailbox a little though.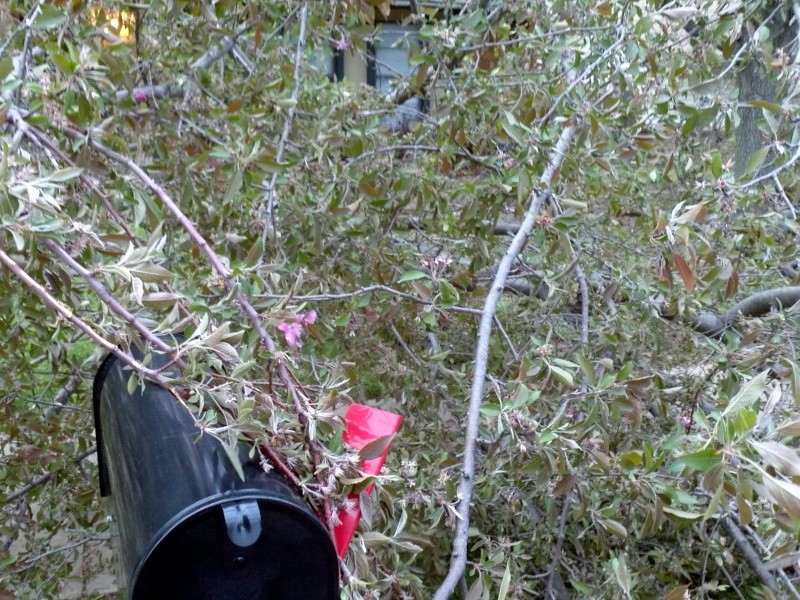 Mr. Mailbox fought valiantly and honorably, but ultimately succumbed to the strength of nature. He will be missed....
Actually - I'm sure I can just bend that flag back in place later. Anyways - as I was transferring these pictures to my compooter, I found some pictures from waaaaaay back in Halloween when I was making my own jack-o-lanterns! Remember when I posted that thread showing my futile progress? Yeah - didn't think so... but anyway, it looks like I forgot to post one I made that turned out almost kind of good!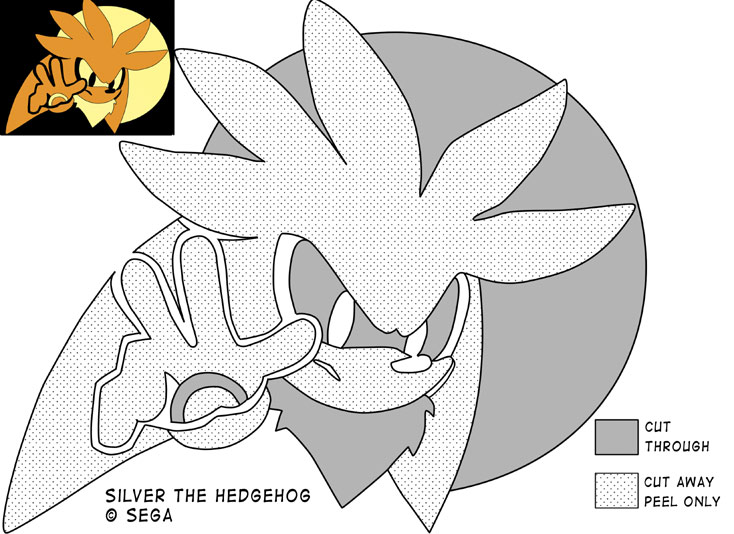 It's Silver the Hedgehog. I think I remember making this one when I switched from those stupid worthless pathetic cheap breakable painful-to-us dollar-store tools to REAL tools I found around the house - which included a flat-head screwdriver. Ultimately, my triumphant hard work for all those pumpkins deteriorated much faster than I had expected, sadly, and this one didn't even get to be usable by the time I was setting them all outside for the halloweenies. Oh well...it was a nice experiment.
Anyway, I'm feeling quite invincible right now. I've seen some rather scary weather in the past. I was involved in Hurricane Katrina back when I lived in Mississippi, and got to see some very scary wind from inside a military shelter. I don't remember where we keep pictures from that though. Our house there once had a giant, beautiful forest behind it that would put you in a trance - like you were in woodelf territory. Now, I'm sure most of those trees are still gone, as they were tall and slender. Remarkably, our house back then suffered little to no damage as well. All we had to fix was a broken support beam, and part of our fence. The neighbor two doors down had a car thrown into his living room. I guess no matter how much it wants to hurt me with bad weather, nature just keeps MISSING me! Hah!